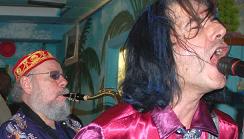 Greg Clarke, lead vocals/guitar/songwriter, formed the Madvarks back in 2005. The Madvarks released their first CD shortly afterward. They recorded their next CD in 2007 – "Greg Clarke and the Madvarks Live!". The Madvarks have loved playing together as only a tightly knit family can do.

Greg Clarke and the Madvarks admire Phil Spector, Frank Zappa, Jimi Hendrix, Howlin' Wolf, Brian Wilson, Little Richard, Bo Diddley, Tom Waits, Sun Ra, Canned Heat and the Ramones to name a few.

We are our own sound; we perform covers of rock classic as well as our own originals. We try to defy labels, but perhaps you will recognize our traditional rock'n roll/blues with an edge of early punk/jazz.

You will laugh, you will cry, you will spill your beer when you hear our rockin' covers of classic numbers like Leonard Cohen's Fingerprints, Muddy Water's Mannish Boy, Donovan's Season of the Witch, Creedence Clearwater's Proud Mary, Lou Reed's Rock 'n Roll and Bob Dylan's All Along the Watchtower, as well as some truly inspired original Madvark tunes.